Rainbow Project Letter to Design for a Difference Team
Hello Design For A Difference Team,
I hope this message finds you doing super well! We just hired (2) new staff! Amazingly gifted clinicians who are both bilingual Spanish speaking. They both said they knew they wanted to work at Rainbow when they walked through our doors!! Bob, I remember distinctly that you said one of the hopes of the Design 4 a Difference effort was to transform the environment to attract & retain high quality staff!! Just wanted you to know we are concretely experiencing this. We had an incredible Stakeholder Forum in April & earlier this month we hosted a Downtown Madison Rotary luncheon that was also very successful. And we are continually taking groups through for tours including an Edgewood college psychology class, Domestic Violence Task Force Children/Youth Subcommittee & many, many more. Alumni are also stopping by to check out the renovation & express pride & gratitude for what the community has done for us & current & future Rainbow clients. We are doing super well in fundraising & cannot thank you enough. I know you are all very busy with your current project with Centro & we are excited for them but wanted you to know how much more your gift continues to give!
Sharyl Kato, Director, Rainbow Project, July 17, 2017
2017 Design for a Difference Progress Update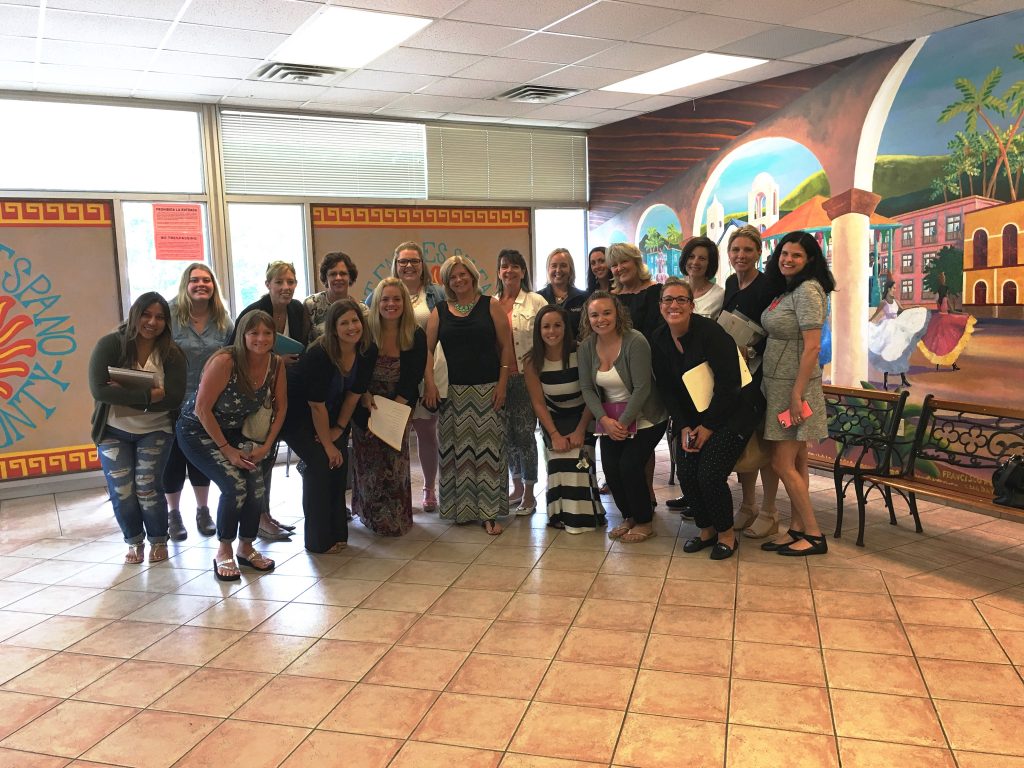 FLOOR360 is in our third year of Design for a Difference in Madison. Each year we select a non-profit from nominations to receive an interior makeover free of charge. Since announcing that Centro Hispano will receive the makeover in 2017, over forty local designers have volunteered to join the Design for a Difference design team! Read more
News Release: Angela Skalitzky named Design for a Difference National Ambassador
MADISON, WI (May 25, 2017) – FLOOR360, provider of high-fashion flooring and designs is pleased to announce that Angela Skalitzky, Vice President of Retail/Sales at FLOOR360 has been named National Ambassador of Design for a Difference movement. The movement provides much needed interior makeovers for charities free of charge. Angela Skalitzky has served as Lead Project Manager for Design for a Difference interior makeovers of non-profits in the Madison area including Center For Families in 2015, The Rainbow Project in 2016, and Centro Hispano in 2017. Her objective in this role is to advise and inspire her peer group in the flooring industry to organize makeover projects in their own communities. Read More
NBC15

(May 6, 2017) Design for a Difference 2017 Project Manager Angela Skalitzky talks to Amy Carlson about this year's interior makeover recipient Centro Hispano. Work has begun on this exciting endeavor, over 30 local design professionals have committed to volunteering their time and talents. Watch the story
News Release: Centro Hispano to Receive Design for a Difference Makeover
MADISON, WI (April 4, 2017) FLOOR360, provider of high-fashion flooring and designs announced that Centro Hispano in Madison, WI will receive the 2017 Design for a Difference Makeover free of charge. Local interior designers work with an army of suppliers, installers, painters, and other volunteers to come together over the course of the year to plan and provide a much needed interior design makeover for Centro Hispano, 810 West Badger Road Madison, WI. Read More
MADISON365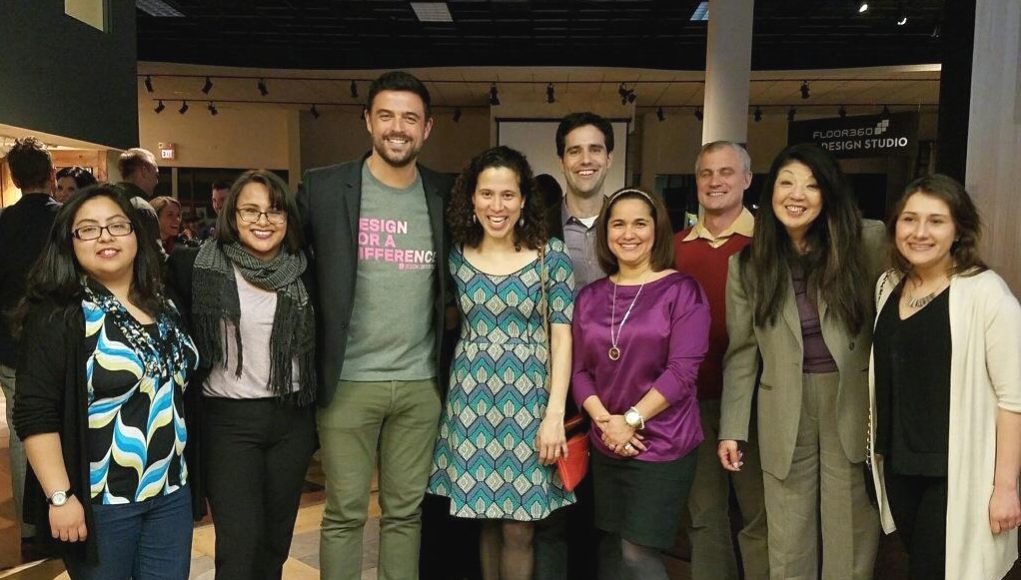 Written by and Photo by David Dahmer
(March 24, 2017) Centro Hispano is getting a total interior makeover of its building on Madison's south side. That was the big news that came out of the Spring into Design kickoff event last night at FLOOR360 in Verona.
FLOOR360 is the proud sponsor of Design for a Difference, the only community-driven designer movement in the U.S. and Canada that brings local business owners together with interior designers to makeover much-needed spaces at local charities and non-profits.
"[Centro Hispano Executive Director] Karen [Menendez Coller] was one of the many reasons that [Centro] was nominated – her work and her passion and her professional skills … and organizing that group," Bob Tobe, owner of FLOOR360, told the crowd at the event. "It was all pretty impressive when we researched it. They are so worthy of this and we can't wait to get started." Read More
NBC15
(March 23, 2017) On the day of Spring into Design, FLOOR360 CEO Bob Tobe, HGTV 'Curb Appeal' host and guest speaker John Gidding, and Mark Brunetz National Spokesperson for Design for a Difference went on NBC15 morning show to talk about the event and Design for a Difference. Watch the video.
BRAVA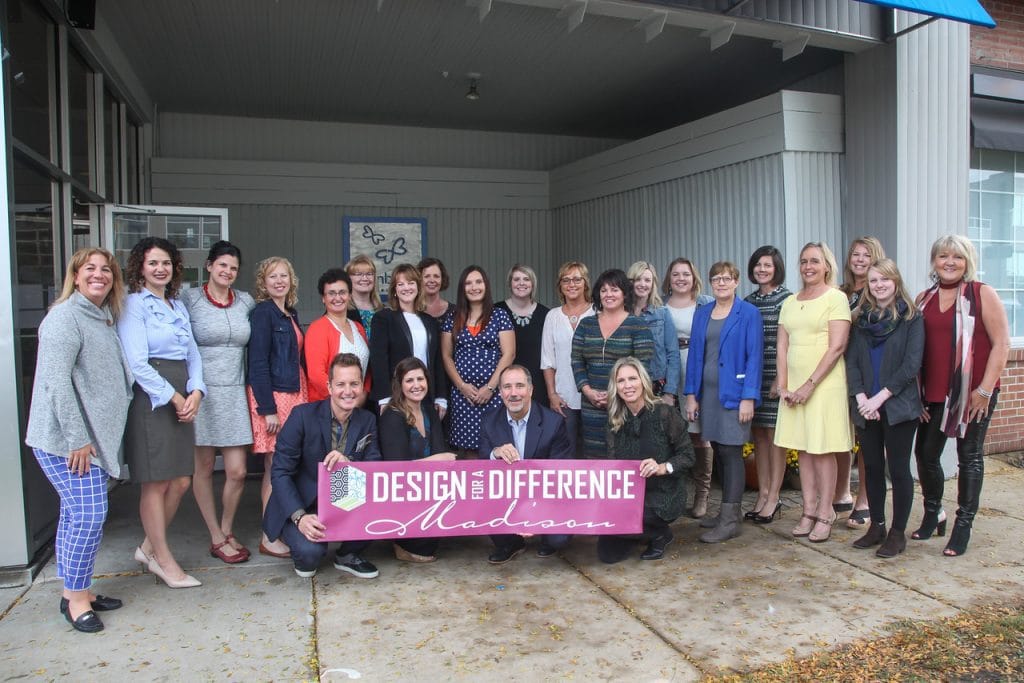 (December 2016 issue) Have you ever noticed how a building seems to soak up the energy of all of those who have walked through its doors? For the past 36 years, The Rainbow Project has served over 10,800 children and 10,400 adult caregivers, providing restorative healing through therapeutic services and giving hope to those who have experienced trauma. Although there have been many triumphs and successes at the agency's East Washington location,there have been plenty of tears and heartache as well. And unfortunately the sadness, instead of the joy, was being reflected in the space's worn-out interior. Read More
WISCONSIN STATE JOURNAL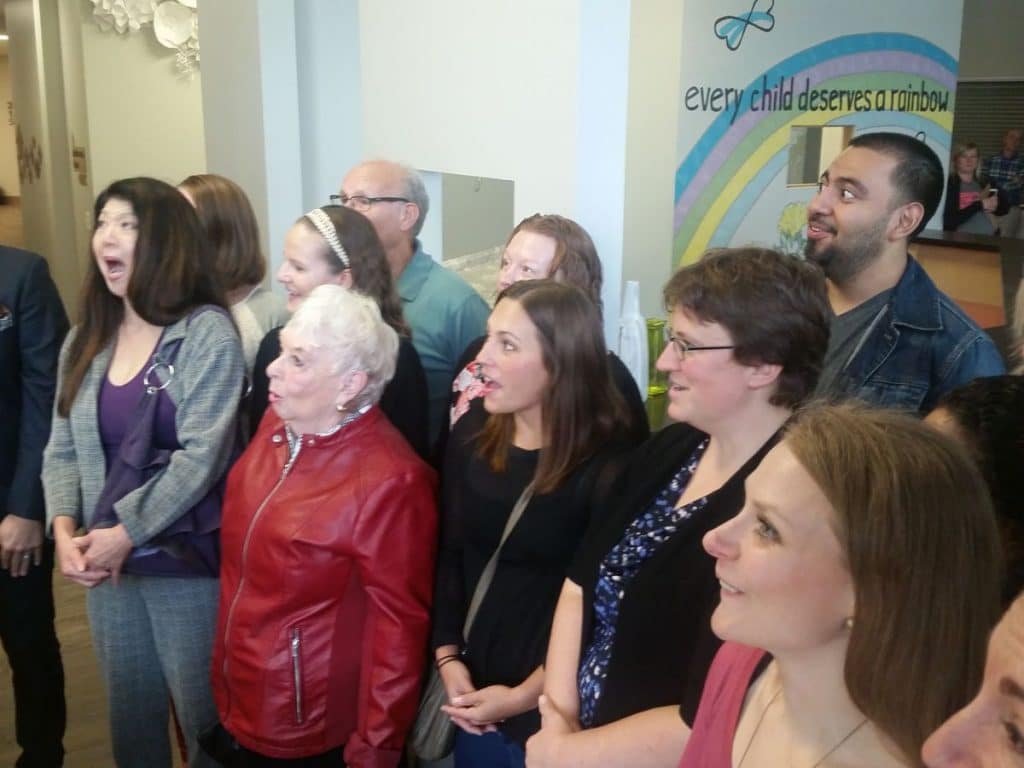 Photo by and Written by Shelley Mesch
(October 16, 2016) Staff members at The Rainbow Project held their eyes closed as they were led into their office Sunday at 831 E. Washington Ave. When they opened their eyes, they were met by interior designers and a redesigned workplace.
"I didn't know that angels came in the form of interior designers," Sharyl Kato said.
Kato is the executive director of The Rainbow Project, a nonprofit where children and families can come for counseling after experiencing abuse or trauma. The organization has been in the same building for decades, and its age was showing. Read More
BRAVA

Written by Marni McEntee
(June 2016 issue) In side an unassuming building on busy East Washington Avenue, The Rainbow Project's staff has created a universe of healing for families affected by abuse, neglect, loss or community violence. The child and family counseling and resource clinic helps over 700 children and 700 adult caregivers every year overcome crippling pain, grief, fear and misunderstanding.
At the helm, and at the project for 36 years, is Director Sharyl Kato, who still carries a caseload in addition to handling fundraising, administrative duties, outreach and other efforts to keep the nonprofit afloat
Imagine Kato and her 20 staff members' joy when The Rainbow Project was selected by Design for a Difference—Madison, to undergo a complete makeover of its facility. The Rainbow Project was selected from among 20 applicants this year, says Bob Tobe, owner of FLOOR360, which spearheads the Madison movement.
After touring the project offices, Tobe says, "It was obvious that the space at The Rainbow Project was in great need of a makeover and that design could make a difference." Read More
BRAVA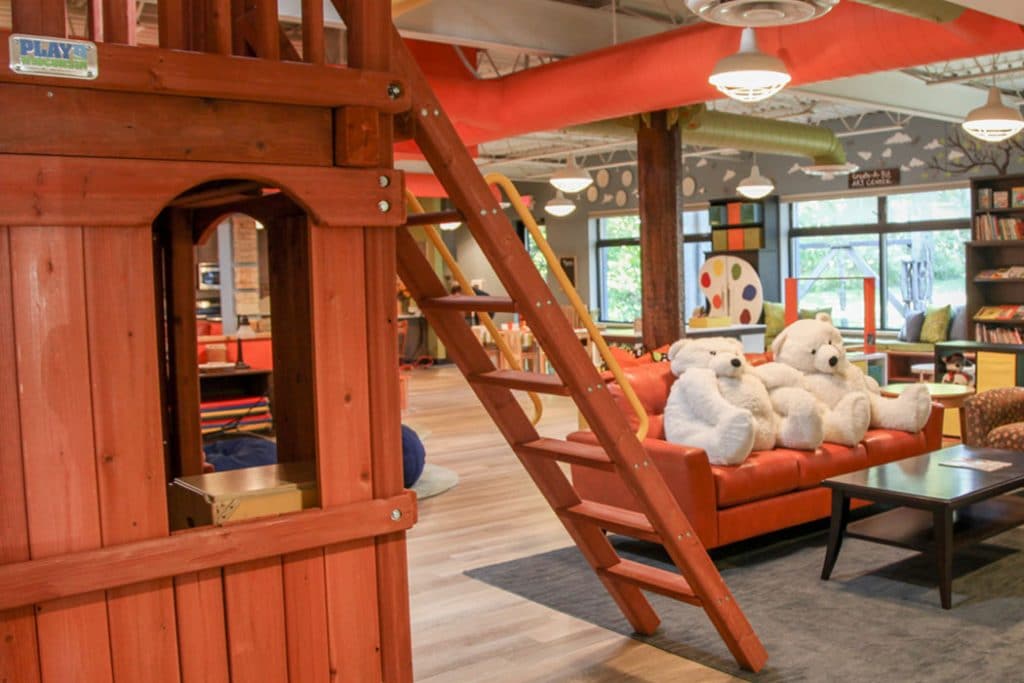 Written by Shelby Deering Photo by Shanna Wolf
(December 17, 2015) A few days after the reveal of the Center for Families' renovated Respite Center, a family of three checked in. The mother had two black eyes and had spent the previous evening in a domestic fight with her partner— unfortunately, the children had been witnesses. Scared and anxious, the children were at first unwilling to leave their mother. But as they started to explore the new space, their frowns quickly turned into smiles. Seeing her kids absorbed in the toys and activities, their mother could breathe a sigh of relief, watching her children be children.
This family is just one of thousands that will benefit from the redesigned Respite Center, and it's all thanks to Design for a Difference, a community-driven national movement of the International Design Guild of which FLOOR360 is a member. Bob Tobe, co-founder of design focused flooring retailer FLOOR360, brought Design for a Difference to Madison and rallied a large team of local designers who volunteered to work on the project. It was the largest Design for a Difference project yet and included over 100 individuals and companies contributing over $140,000 of goods and services. Read More
FLOOR TRENDS MAGAZINE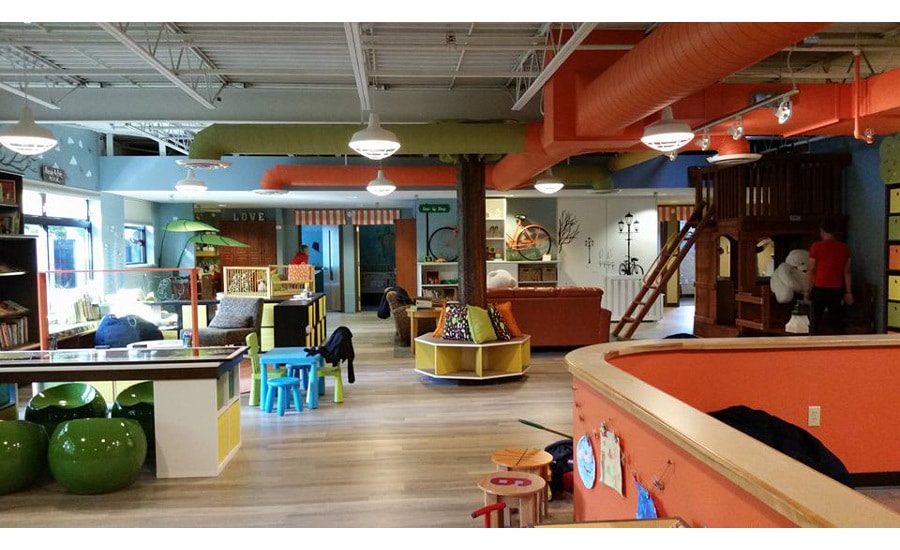 (October 26, 2015) A range of Madison, Wis., businesses joined local sponsor FLOOR360 in supporting this year's Design for a Difference beneficiary, Center for Families, a non-profit organization that offers instruction, support, emergency child care, in-home visits and valuable resources that parents need to meet the challenges of parenting.
To date, FLOOR360 received over $140,000 in goods and services to execute the design makeover for Center for Families, according to the company.
The project, which was led by a team of Madison-area designers including Angela Skalitzky, Dani Frank, Caren King, Katie Merical and Michelle Schildgen, was a complete transformation of the facility in a one-week timeframe. Read More