Let FLOOR360 help you bring your space into the new year with these fresh tile looks.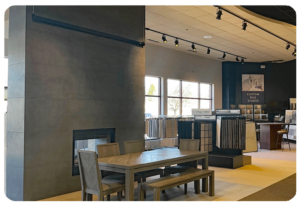 Do you have plans to update your home or business' look in 2024? Look no further than FLOOR360 and our tile shop in Madison, WI.
Tile trends and styles are ever-changing, and our team stays on the cutting edge to help you bring your design visions to life. From new takes on classic styles to bold, fresh ideas, the FLOOR360 team has the selection and expertise to completely transform your space.
Before you plan a visit to our tile shop in Madison, WI, let's go through a few of the tile styles and design ideas our expert design team has on their radar for 2024, including:
Marble-effect tiles
Large-format tiles
Micro subway tiles
Geometric tiles
Color "drenching"
Read on to learn more about these tile design ideas you're sure to see gain traction in the new year!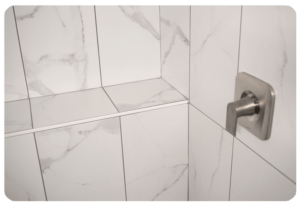 Marble-effect tiles
Marble-effect tiles will continue to dominate the flooring world in 2024. The versatility of this natural stone look has made it a classic trend that never goes out of style. These tiles are perfect for bathrooms, kitchens, entryways, or anywhere you'd like to make a bold, luxe statement. Pair with warm wood accents and brass fixtures for a timeless look.
Large-format tiles
Large-format or oversized, tiles offer a sleek and contemporary feel, especially in open-concept spaces. FLOOR360 carries a wide variety of large-format tiles in a range of colors and finishes. With fewer grout lines, these tiles create a seamless and modern look. Use them to cover an entire wall or as a statement piece in a room.
Micro subway tiles
Micro subway tiles are the perfect choice for those who want a traditional tile look in a smaller format. These mini tiles provide a classic look with a modern twist. Use them for kitchen or bathroom backsplashes, shower walls, or even as a unique accent wall in any room.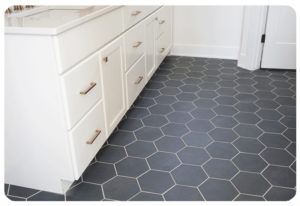 Geometric tiles
Geometric tiles will continue to be a popular trend in 2024. Whether you opt for a chevron, hexagon, or geometric pattern, these tiles add texture and depth to a space. FLOOR360 has a stunning selection of geometric tiles that are perfect for any room in your home or business. Our design pros can help you mix and match patterns to create a unique and eye-catching design.
Color "drenching"
Color "drenching" is a trend that we predict will take off in 2024. This technique uses one bold color for an entire room to create a dramatic and cohesive design and even help provide the illusion that your space is bigger than it actually is. Our tile shop in Madison, WI has a wide variety of colorful tiles, from soft pastels to bold jewel tones. Consider using a rich emerald green or a warm and timeless terra cotta to make a statement in your space.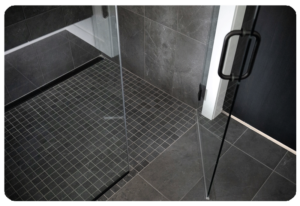 These design ideas are just the beginning of what our tile shop in Madison, WI can help you achieve in your home or business in 2024. Stop by our showroom today to browse our selection of tiles that are sure to add beauty and functionality to your space, or contact our design team to start your next project.
For more tile and flooring styles and inspiration, keep reading the FLOOR360 blog or visit our photo gallery!