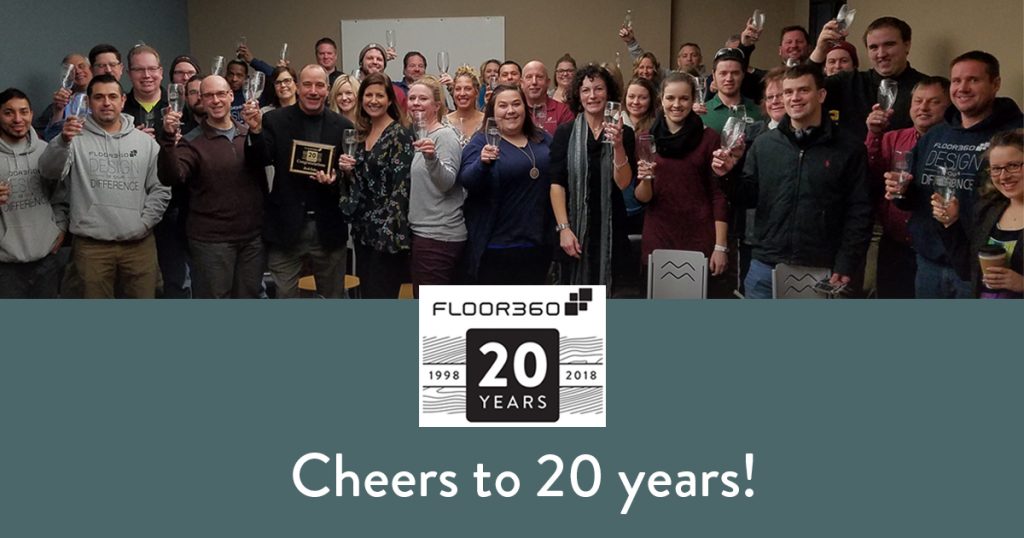 Contact: Bob Tobe, CEO, FLOOR360
608-204-7530 .
FLOOR360 Celebrates 20th Year Anniversary
Two decades of providing the highest quality flooring and giving back to the community
MADISON, WI (December 18, 2017) – FLOOR360, with corporate office in Madison, WI is celebrating 20 years of serving the residential and commercial flooring market in Wisconsin and beyond. FLOOR360 employs over fifty people, installs over 50% of new construction homes in the Dane County area and handles commercial projects including apartment complexes, hotels and resorts throughout the country.
FLOOR360 also initiated and leads a movement that provides interior makeovers free of charge to non-profits with the Design for a Difference – Madison.
Bob Tobe, CEO, was one of the original founders of Wisconsin Flooring Company on January 9,1998, later to be re-named FLOOR360. The 10,000-square foot showroom is located in the Design Mart building on Verona Road in Madison. Bob identified a demand in the Madison area for residential and commercial high fashion flooring products, and assembled a team that could deliver superior customer service. This was the company's motivation and founding spirit with its original inception in 1998, and remains the same today: to offer quality flooring at competitive pricing with design expertise and excellent customer service.
The company is led by a core leadership team who carries out the company initiatives through the exchange of ideas, communication and collaboration. One of FLOOR360's core values is to attract and retain quality people. As the business has grown to include accounts like Veridian Homes, so has the emphasis on creating a positive company culture that rewards achievement and encourages giving back to the community.
In 2015, FLOOR360 sponsored the first Design for a Difference – Madison makeover for Center for Families (now Rise). Design for a Difference is a national design-driven movement sponsored by flooring stores who are members of the International Design Guild. Participating stores provide free interior makeovers to non-profit facilities located in the market they serve. In Madison, FLOOR360 has spearheaded free makeovers to Center for Families, The Rainbow Project and Centro Hispano which total over $1,000,000 in value. And FLOOR360 is committed to providing interior makeovers free of charge to Madison area non-profits indefinitely.
ABOUT FLOOR360
FLOOR360 uses design to make a difference in your home and in our community. The design and installation professionals at FLOOR360 utilize comprehensive processes that ensure a high level of satisfaction for flooring, showers and window coverings. FLOOR360 sponsors Design for a Difference, the only design driven movement in Madison that brings interior designers and local businesses together to makeover much needed spaces at local charities.