Shop the latest trends in our Madison, WI tile shop.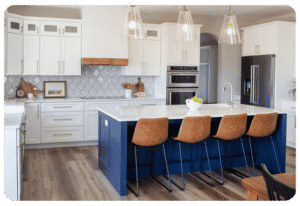 In a post-pandemic world, we recognize now more than ever before the importance of loving the spaces we live in. After all, our homes aren't just where we relax and unwind anymore — for many of us, they've become the places we work and study as well! That's why creating a look that's both cozy and functional is essential.
One of the easiest ways to do that and give your home an all-over upgrade is with new flooring! Whether it's eye-catching tile, hardwood, or vinyl plank, the power of a new floor cannot be underestimated.
Need some inspiration for your home's flooring makeover? You can find these flooring trends and more in our Madison, WI tile shop:
1. Natural stone tile
2. Porcelain tile
3. Glass tile
4. Ceramic tile
5. Wood-look tile
6. Luxury vinyl
7. Hardwood
Tile options
Let's start with tile — when it comes to tile shopping, the varieties are endless! The cut, pattern, and color have the power to instantly transform any space. With options like herringbone, hexagon, and subway, even the tiniest space in your home (think entryways or small bathrooms) can make a big impact!
Natural stone tile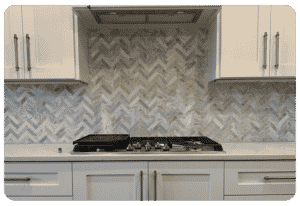 Whether it's slate, granite, or limestone, natural stone tile has become a crowd favorite for an instant home pick-me-up. Popular in kitchens and bathrooms, natural stone tile is a sought-after option due to its sleek, minimalist aesthetic.
Porcelain tile
Lauded for its power to make a statement in kitchens and bathrooms alike, porcelain tile comes in a variety of finishes and cuts, perfect for taking your project from vision to reality.
Glass tile
Glass tiles are an easy way to instantly brighten up any kitchen or bathroom. Due to its low maintenance requirements and ability to be easily cleaned, it's no wonder it's found its way into kitchens across the nation!
Ceramic Tile
Made from glazing and firing clay, ceramic tile is highly durable and versatile, making it ideal for not just floors, but walls and countertops as well. A great choice if you're leaning toward a more earthy, rustic vibe, ceramic tile looks just as striking when uncoated or matte.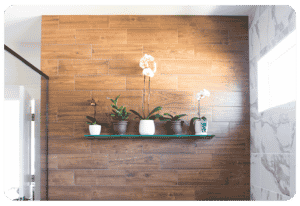 Wood-look tile
Tiles that mimic the look of wood planks are incredibly trendy right now, with many homeowners opting to use them for small spaces, bathrooms, and showers.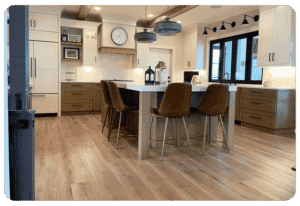 Luxury vinyl
Ideal for those who want to create the look of a sleek wood floor on a budget, vinyl mimics the look of real hardwood at a fraction of the upkeep (and cost!). Luxury vinyl does not expand when becoming wet or humid, making it the perfect fit for a high-moisture environment like a bathroom, mudroom, or lower level.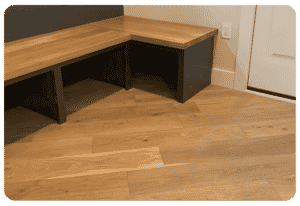 Hardwood
Hardwood is timeless and adds an undeniable warmth to a space, but there's a bit more maintenance required here than with other types. Too much dryness can make it crack, and moisture will make it expand. And if you're a pet person? Paws and claws can take a toll on your hardwood over time, leaving scratch marks. The two styles of wood, engineered or solid, are important to consider when making your design choice.
Engineered hardwood is stacked in a cross-grain configuration and bonded together under heat, meaning it's more resilient when it comes to climate factors like humidity. Solid hardwood is milled from a single 3/4″ thick piece of hardwood. Due to its thickness, this floor can be sanded and refinished over several generations of use.
Once you've picked your type of hardwood, you'll have to choose a color and finish as well. Will you jump on the coastal or farmhouse trends and opt for a lighter look like birch or a bright oak? Or do you plan on sticking with a classic dark look in your living spaces?
No matter what design trend you're looking to capture or flooring type you have in mind for your next project, you'll find it in the tile shop at FLOOR360! If you're ready to start making your design dreams a reality, contact our team of design pros today to get started!