INSTALLATION TEAMS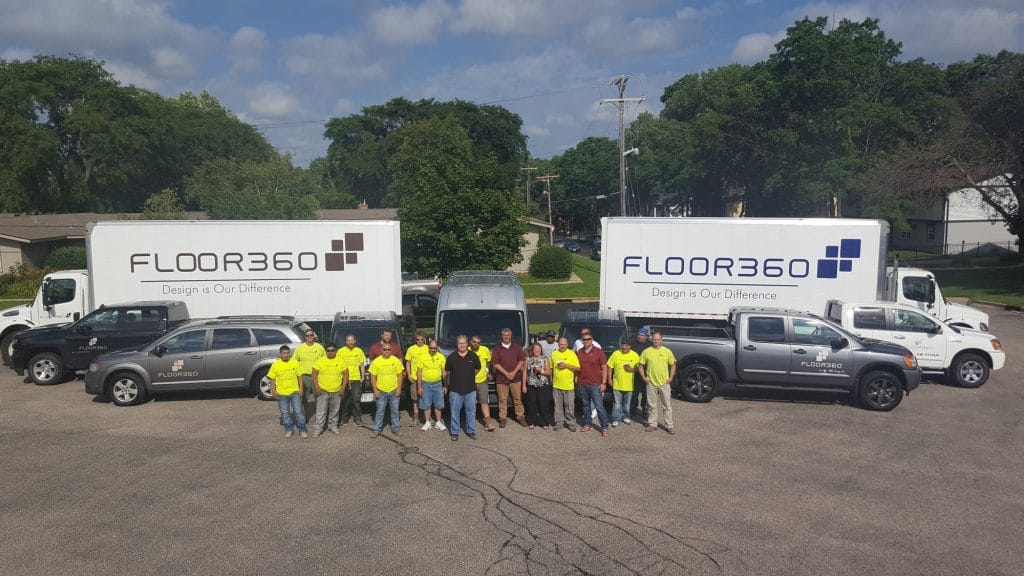 Installation
Our installers meet and surpass the high FLOOR360 quality standards. We recognize that the quality of the product and design must be installed to perfection to create the finished result in your home. Scroll down to see checklists we email to homeowners before we install carpet, tile, vinyl and hardwood.
REVIEWS
"We had the tile surrounding our fireplace replaced. Daniel and Jeff were the two FLOOR360 employees that did the work. Daniel was polite and considerate. Did a thorough job of properly preparing the site including the demolition of the previous tile work. He took great care not to damage any of our existing mahogany wood work. The area was masked and the wood floor covered to limit any damage. He set the tile in place while Jeff assisted with cutting necessary tile. Daniel closely followed the diagram prepared by FLOOR360 and it came out as expected. At the end Daniel used a laser to insure the evenness of the tile. Our new fireplace looks wonderful and the tile work is perfect installed. I would use FLOOR360 again (this is the 3rd time). They are competitive and their installers, Daniel and Jeff did great work." – Paul
"I'm so thrilled with how my bathroom flooring turned out! So glad we did the herringbone installation for that one.The kitchen backsplash also looks incredible". – Somer & Greg
"Daniel Calvillo and his team installed tile for our bathroom floor as well as our new shower. Amazing experience! Very professional, polite and did an amazing job. Pleasure to work with. Love our beautiful new bathroom." – Denise
"Daniel Calvillo is fantastic!!!! He went above and beyond!! He meticulously fixed my floors and then sanded and stained part of my staircase to perfection!!! His knowledge, craftsmanship and dedication to his clients is superb!!!!" – Paul V.
"Want to reiterate the positive reviews for tiling. Saul, Gabriel, Christian and Daniel did an outstanding job on our kitchen backsplash. Incredible attention to detail and professionalism. Saul told me they wanted to treat my house as their own; you did it! Thanks!" – Airbadger
"Daniel Calvillo and his team recently finished the tile install in our basement bathroom. The quality of work, professionalism, expert opinion and timely manner in which the job was done was incredible. Daniel's attention to detail sets him apart and we would love to have him for our next project!." – Derek
WARRANTIES
FLOOR360 provides a minimum of a one year warranty on all product and installation on top of any manufacturers warranty. Shower warranties are backed by the Best in the Business Limited Lifetime Warranty. Compare this with others and you can quickly see that FLOOR360 stands behind its work!
QUALITY CONTROL
FLOOR360 practices "continual improvement process" and job quality is consistently reviewed and monitored. Our Field Supervisors review and monitor the quality of the finished installation as well as review all service calls. Our rate of customer satisfaction far exceeds industry average but we are constantly working on improving. If you have any question regarding your installation or the care and maintenance of your floor you can talk directly to an experienced knowledgeable FLOOR360 Service Manager.
We are a local company and care about your total satisfaction long after the sale.
HOMEOWNER INSTALLATION CHECKLISTS
Please see the following checklists to use in preparation of our installers starting to work on carpet, tile, vinyl or hardwood.
Carpet
All items need to be cleared from room
If we are moving furniture any electronics and small items such as lamps, breakables, etc. need to be moved ahead of time. Also please empty any dresser drawers.
Secure pets
Tile
If appliances are being moved disconnect any water or gas lines ahead of time
Make sure room is clear ahead of time
If we are moving furniture any electronics and small items such as lamps, breakables, etc. need to be moved ahead of time. Also please empty any dresser drawers.
Please provide access to water to mix mortar and grout
Please provide a place to set up wet saw. We cannot cut outside if it is raining or below freezing.
Secure pets
Vinyl
If we are appliances are being moved disconnect any water or gas lines ahead of time
Make sure room is clear ahead of time
If we are moving furniture any electronics and small items such as lamps, breakables, etc. need to be moved ahead of time. Also please empty any dresser drawers.
Secure pets
Wood
If appliances are being moved disconnect any water or gas lines ahead of time
Make sure room is clear ahead of time
If we are moving furniture any electronics and small items such as lamps, breakables, etc. need to be moved ahead of time. Also please empty any dresser drawers.
Please provide a place to set up saw. We cannot cut outside if it is raining or below freezing.
Room must be at least 60 degrees prior to, during, and after installation
Humidity needs to be maintained between 35%-50%
Secure pets