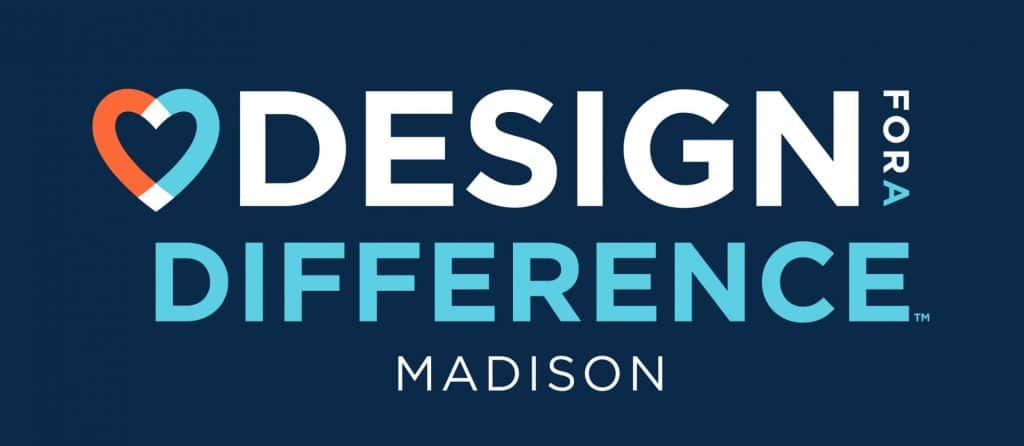 2019 Makeover Story – Wil-Mar Neighborhood Center
This makeover began in April 2019 when over 50 interior designers in the Madison area met at FLOOR360 and agreed to volunteer their time and talent to create a great space for this special place in Madison. Wil-Mar Neighborhood Center is a 100-year-old church that received new flooring, paint and amazing creative flourishes that reflect the people and the neighborhood where the facility is located. Over 200 area businesses and individuals came together to donate time, materials, talent and funds that totaled over $700,000 – a record setting amount for a makeover of a non-profit in the United States. This is truly the gift that keeps on giving, the community room has been booked solid for event reservations since October 2019, earning extra income for the non-profit which can be invested into other programs like their food bank or summer camps.
About Design for a Difference
Follow Design for a Difference-Madison on Facebook and Instagram
Design for a Difference is the first-ever community driven movement that brings socially-conscious design-driven flooring showrooms together with interior designers and other businesses to makeover much needed spaces at local charities. The movement was started by the International Design Guild membership including local Madison business FLOOR360. The 2015 Charity recipient was the Respite Center at RISE in Madison, WI. The 2016 Charity recipient was The Rainbow Project in Madison, WI. The 2017 Charity recipient was Centro Hispano. In 2018, the design team and over 200 volunteers executed a 12,800 square foot makeover of East Madison Community Center in Madison, WI. Wil-Mar Neighborhood Center is the most recent recipient of the makeover in 2019. Visit the Past Projects page to see the hundreds of volunteers and donors who have donated over $2 million dollars in time, materials and funds. with videos.
If you are an interior designer join the Design Team and volunteer your time, talent and creativity!
2015 – The Respite Center at RISE
2016 – The Rainbow Project
2017 – Centro Hispano
2018 – East Madison Community Center
Who
…can be involved. Any person, business or organization that has the passion to make a difference including design professionals such as interior designers, architects and design students.
…will benefit: The makeover and publicity generated during the makeover process will benefit the people in need served by the non-profits as well as its staff and volunteers.
Why
To provide an opportunity for local businesses to be recognized in their communities for their charitable contributions.
To demonstrate how Design can positively impact living environments.
To extend goodwill to local charities who give back to our communities.
To impact our communities by making a Difference in people's lives
How
There are a couple of ways to share in the joy of giving. Visit this page to find out how to participate in future makeovers.
Design Professionals
Professional Interior Designers are invited to volunteer their time and talents to collaborate with other designers on the Design Team. It's the most rewarding thing you will ever do.
Contact Angela Skalitzky, Design for a Difference-Madison Director, with any questions.