Bring the latest styles to life in your space with FLOOR360!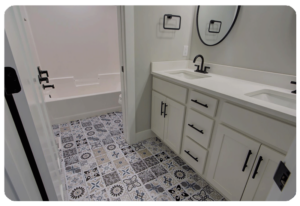 Your home is your sanctuary, and every homeowner wants to make their space feel as welcoming, personal, and comfortable as possible. One way to accomplish this is by staying on-trend with the latest in flooring design.
As 2023 starts winding down and we approach 2024, there are a few standout flooring styles that homeowners will want to take notice of if they want to incorporate the latest trends into their future design projects.
From maximalist and geometric patterns to light-colored and bleached woods, textured flooring, patterned tile, and natural stone, there are endless design options you can achieve at FLOOR360's flooring store in Madison, WI.
Maximalist and Geometric Patterns
One of the rising flooring trends of the year are maximalist and geometric pattern tile designs. These styles take a bold departure from traditional neutral, solid-color patterns. Maximalism and geometric designs draw attention to intricate and eye-catching textures that add character and individuality to living spaces. One of the most popular uses for patterned tile right now is in kitchens and bathrooms since they seamlessly combine durability and easy cleaning with bright, bold designs.
FLOOR360's expansive tile selection can help you achieve this look in your own home, with nearly limitless options for materials, patterns, and colors you can choose from. Whether you are drawn to shapes, dots, squares, hexagons, or other designs, our flooring shop in Madison, WI, has options for unique, visually appealing floors that spice up your living spaces.
Light-Colored or Bleached Woods
Light-colored or bleached wooden flooring options have become increasingly popular as homeowners seek to brighten and simplify their living spaces. They offer a fresh, clean, modern look that exemplifies a minimalist and contemporary aesthetic, and they blend nicely with nearly any decor. These finish options enhance the wood's natural grain and color, resulting in a light, airy feel that complements any space.
FLOOR360 offers several options for light-colored and bleached wood flooring, in both natural and engineered styles.
Porcelain Stoneware Tiles
Porcelain stoneware tiles have been a top flooring trend this year and will likely continue into 2024, thanks to their durability and versatility. Porcelain is an incredible material that can be made into various shapes and sizes, enabling you to create almost any design you can imagine.
Whether you prefer a matte or polished finish, FLOOR360 provides a complete range of porcelain stone tiles for your living space. Porcelain fits just about any environment because it offers excellent versatility and style, with the added bonus of resisting moisture and wear, thanks to its density.
Textured Flooring
Textured flooring is another flooring trend that homeowners should consider for their living spaces in the coming years. Textured flooring adds dimension, depth, and character that smooth wood or vinyl can't provide. If you want to capture that lived-in feel in your own home, our flooring store in Madison, WI, offers textured flooring options in an array of beautiful colors and patterns.
Natural Stone
There's a reason natural stone tile has been a recurring flooring trend for centuries — it's long-lasting, durable, and visually striking. If you're looking to add the classic look of stone to your kitchen, bathroom, or even living room, FLOOR360 has a variety of options to bring this natural, timeless look into your space.
From unique designs and patterns to light-colored woods, porcelain stone tiles, textured flooring, patterned tile, or natural stone, there's something in these flooring trends for every homeowner to add a dash of style and personal flair to their spaces.
If you're looking to bring one (or more!) of these flooring trends into your new home build or renovation project, FLOOR360 is ready to help. We've built a reputation in the industry for providing both quality products and premium services, enabling you to transform your home into a luxurious, comfortable, and visually appealing space.
Contact our team today to get started, or stop by our flooring store in Madison, WI, to see our options in person and start bringing your flooring design dreams to life!