Explore FLOOR360's unbeatable selection of hardwood flooring in Madison, WI.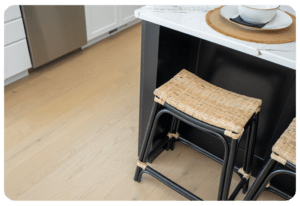 It's hard to argue with the appeal of beautiful hardwood flooring. Whether you love the elegance of white oak, the warmth of hickory, or the rich, stately charm of walnut, hardwood flooring offers timeless appeal and adds effortless luxury to your home.
The only difficulty lies in choosing the perfect wood options to elevate your environment and add value to your property. FLOOR360 offers hundreds of gorgeous flooring options, including a wide range of hardwood flooring in Madison, WI, along with expert guidance to ensure you find the right choice to upgrade every room in your home or business.
Our team can help guide you to the ideal hardwood flooring choice for your building or renovation project, but it helps to settle on a few key factors ahead of time. Take the time to think about the room you're placing the flooring in, the elements it'll be exposed to (moisture, sunlight, humidity, etc.), how much time and effort you're able to put into maintaining it, and the overall look you're going for.
Next, take the time to learn about the different types of hardwood and wood-look flooring you'll find at FLOOR360:
Solid hardwood flooring
Choosing from our selection of authentic, solid hardwood flooring in Madison, WI presents several benefits, starting with timeless sophistication that immediately elevates your interior design. Oak, maple, hickory, ash, pine, mahogany, and other popular options deliver a range of colors and grain patterns.
These surfaces offer incredible longevity and give your home a warm, natural aesthetic that feels inviting.
Hardwood planks are durable and versatile, and because they can be sanded and restained, they can last a lifetime and beyond. While you will have to take precautions to avoid spills, moisture, or direct sunlight exposure that could damage hardwood, this resilient flooring is an investment in your home that will not disappoint.
Engineered wood flooring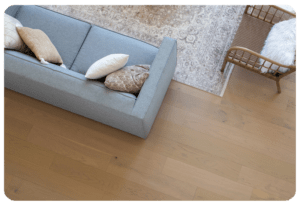 If authentic hardwood planks are a bit out of your price range, consider the beauty and practical benefits of engineered wood flooring. It is made from several layers of material, including thin layers of hardwood, that are bonded with heat and pressure to create solid and durable flooring.
It looks like natural hardwood because it is, in part. However, it enjoys some added functional benefits, including increased resistance to humidity and, often, easier installation and maintenance.
Wood-look flooring
Perhaps you want to install hardwood flooring throughout your home for a unified look, but you're concerned about damage in certain rooms. After all, hardwood flooring in Madison, WI can be exposed to all sorts of damage from humidity and people tracking in dirt, water, snow, and more. Over time, that damage can lead to warping and even rotting or mold if not properly cared for.
For those reasons, solid hardwood may not be the most practical choice for the kitchen, laundry room, mudroom, or bathroom. Fortunately, there are wood-look options that provide your preferred aesthetic in a more practical form.
Luxury vinyl planks are gaining popularity as an alternative to hardwood flooring, not only because this material is waterproof and softer underfoot but because the printing technology is good enough to make it nearly indistinguishable from authentic wood flooring.
Wood-look tile is another option that allows you to create the warm ambiance of a wooden floor or wall panels without the worry of splash damage from a sink or bathtub.
If you have your heart set on the look of wood flooring for your home or business, there are many options to explore when you choose to work with FLOOR360. Contact our hardwood flooring team in Madison, WI today to get started on your flooring project!