Discover your perfect flooring design at our tile shop in Madison, WI.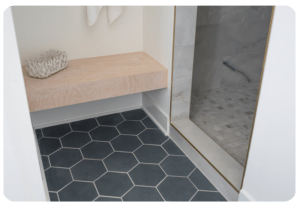 If you're taking on a new construction or renovation project for your home or business, tile flooring can add a sleek look and practical benefits to just about any room.
Take it from the team at our tile shop in Madison, WI – tile is ideal for kitchens, bathrooms, laundry rooms, and other areas that experience dampness and spills. Tile is also the perfect choice for entrances, not only because people tend to track in the elements but also because it provides an elegant first impression.
You will need to decide which type of tile is right for your remodeling project. FLOOR360 is a reputable and reliable tile shop in Madison, WI, dedicated to collaborating with every customer to find the ideal flooring solutions for their specific needs and preferences. Our expert design team is ready to help you choose the perfect type of tile flooring for your project, including the selections covered below.
Ceramic tile
There are a lot of reasons to love ceramic tile. It's available in an endless array of shapes, sizes, colors, and designs to suit every interior style. Whether you like a monochromatic design, geometric shapes and patterns, or a totally unique mosaic style, the sky is the limit with ceramic tile.
In addition, it is incredibly strong and durable. Ceramic tile is fired at 2,000° F and then glazed to protect against potential harm like scratching, chipping, cracking, and staining as well as microbes like mold and bacteria. It's also among the most affordable flooring options, making it a great choice for both creative design and budget renovations.
Porcelain tile
Porcelain is similar to ceramic in many ways, starting with a wide range of design options. However, it is composed of different types of clay and minerals and fired at a higher temperature to produce a dense, low-porosity tile that is even more moisture-resistant. In other words, it's a stronger option that offers equal versatility.
Natural stone tile
If you don't know what types of natural stone are available for flooring, it's time to visit the experts at the FLOOR360 tile shop in Madison, WI. Our talented design team can help you understand the differences between luminous marble, dynamic granite, rustic slate, and a range of stone options like travertine, limestone, and more.
If you're looking for a luxury tile that will stand the test of time, you can't go wrong with strong, durable, eye-catching natural stone.

Glass tile
Glass tile is often used for backsplashes, but it can also work for flooring. Mosaic glass tiles are a particularly lovely option for smaller areas like bathrooms or laundry rooms, and glass makes an excellent accent — such as a border — for large expanses of stone. Sleek and nonporous, glass tile is resistant to staining, mold, and bacteria.
When you visit the FLOOR360 tile shop in Madison, WI, you'll find endless options for high-end tile in ceramic, porcelain, natural stone, and glass. Contact our design team or visit our tile shop in Madison, WI, today to find your ideal style of tile flooring!