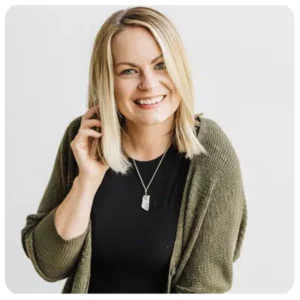 INTERIOR DESIGNER & SALES
I've been in the flooring industry for over 5 years, prior to flooring I was working in full-service Interior Design. The most important element for me is to make sure the client is receiving the best material for their specific lifestyle. I also want to make sure that they are getting exactly what they envision for either their remodel project or new home. The best part of the process is to hear how happy the customer is with the final product. 
Knowing that they love their new flooring, shower, backsplash, etc. is exactly why I love what I do. My personal design style is eclectic with a contemporary twist.  In my spare time I like to spend time with family, friends, going to concerts, and outside activities.
"The primary motivation for working with FLOOR360 was initially the pricing, followed by Amanda's customer service. Responsive to our questions, provided detailed answers and was a pleasure to work with. That provided the assurances that our job mattered, from start to finish. Matt K. was also very helpful with the scheduling and prompt response to our follow up questions. A great team." – Caty
"We did a flooring project at our house a couple month ago with Floor360, we worked with Amanda and I have to say she was remarkable!  She was knowledgeable and provided great guidance on product and install, prompt and just an overall pleasure to work with.  Kudos to her and the team; the project ended up great!" – Jason
"I just wanted to drop you a quick email and tell you that Amanda did a great job with us on Saturday.  She was well prepared with samples already pulled, and she added a few more as we talked.  We ended up ordering a few samples, and they'll hopefully arrive soon.  We've always been very quick decision makers, and she adapted to our pace and style very well.  She was simply a pleasure to work with.  I'm confident one of the samples we ordered will end up being the winner and we'll order and get on the install calendar.  Just wanted to pass along our thanks and comments on the experience."  -Greg
Amanda and FLOOR360 contributed hardwood, tile, design and installation to this home built by Ideation Builders. This home was featured on the Madison Area Builders Association Parade of Homes.
This is a Madison Area Builders Association Parade of Homes residence built by Ideation Builders.  Madison area residents might recognize the television commercial featuring a testimonial from the homeowner. The owner, Atit, agreed to appear because he was so happy with Amanda's knowledge, advice, skill and customer service. 
This home was a collaboration between Amanda, Ideation Builders and the homeowners. It was a part of the Madison Area Builders Association Parade of Homes in June 2022. Materials purchased and installed by FLOOR360 include hardwood floor, carpet, luxury vinyl plank, kitchen tile, bathroom tile, laundry room tile, shower tile, and rubber gym floor. Shanna Wolf Photography
The 2021 Madison Area Builders Association Fall Parade of Homes was a huge success, and one of the highlights was this mid-century modern home built by Ideation Builders. Amanda collaborated with the custom home builders to select the materials, then our installation made all the plans come beautifully to life. All photos by Shanna Wolf Photography
Amanda and Courtney Wollersheim contributed their knowledge and expertise to these custom home builds with Wisco Custom Homes. FLOOR360 supplied the hardwood, carpet, tile and installation for these residential construction projects. Many of these photos are not staged so you can clearly see the quality of the products and the craftsmanship involved. 
This was the 2021 Madison Builders Association Parade of Homes residence built by Ideation Builders. Amanda provided her expertise in hardwood, tile and carpet selections and design in all the rooms in the home. It's a true California Mid-Century Modern style home right here in Wisconsin.
Bedroom & Bathroom Remodeling
Amanda helped these homeowners remodel their master bedroom and bathroom with wood-look tile on the floor and classic white subway tile shower and fun printed tile.
Modern Farmhouse McFarland, WI
This new home construction in McFarland, WI followed the Modern Farmhouse design aesthetic. Builder: Urso Brothers. The hardwood on the main floor was the ideal foundation to compliment all the finishes in the kitchen, living and dining areas. See how tile and carpeting helped bring it all together in the bedrooms, lower level and bathrooms.
Here's a bar area with a backsplash made of elongated hexagon tile. This style is on-trend and fits with rustic or chic styles. Our installation team will expertly bring your vision to life