Choose a custom-crafted and expertly-installed carpet stair runner from FLOOR360
Why a Custom Stair Runner
Your home's main staircase is an important design focal point. With a custom carpet stair runner, you can create a gorgeous look that will impress you and your guests every time you walk in the door. Custom carpeted stairs are also safer, more comfortable, and better at absorbing noise. But finding the right carpet, fabricator, and installation team is vital, so make sure you utilize local professionals from FLOOR360 to guide you through their hassle-free process.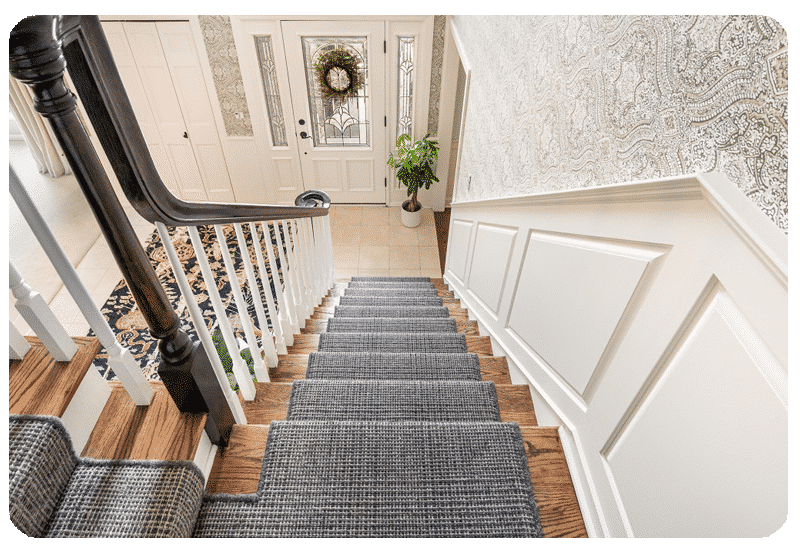 Trust the Experts
First, the experienced interior designer you're paired with will guide you through a curated and exclusive luxury carpet collection to find the perfect pattern and texture to match your taste and meet the functional requirements of your home. Then, FLOOR360's in-house carpet fabricator Jim Ratkowski will precisely cut and bind your carpet for a polished and completed look. Finally, skilled craftsmen Jesse Schneider and Steven Malady will install your stair runner. Their high level of skill and attention to detail have taken them all over Wisconsin to complete the most complex jobs.
Tips for Success
Set yourself up for success by choosing a durable natural carpet fiber like wool, which will resist wear and hold its color
and shape on a high-traffic stairway. And don't be afraid to choose a bold pattern— true experts know how to cut and install beautiful carpet without compromising the integrity of your chosen design.
Schedule an Appointment
[contact-form-7 id="556029″ title="Design Contact Form Madison"]