On April 20 in Madison and on April 21 in Milwaukee, FLOOR360 hosted events for the interior design community. Each event featured an educational presentation on Carpeting and Soft Surface from Don Karlin, Director of Broadloom Sales for Nourison. We provided this opportunity for the interior designers to earn a technical CEU (Continuing Education Unit) if they are members of a professional association like ASID-WI (American Society of Interior Designers – Wisconsin Chapter).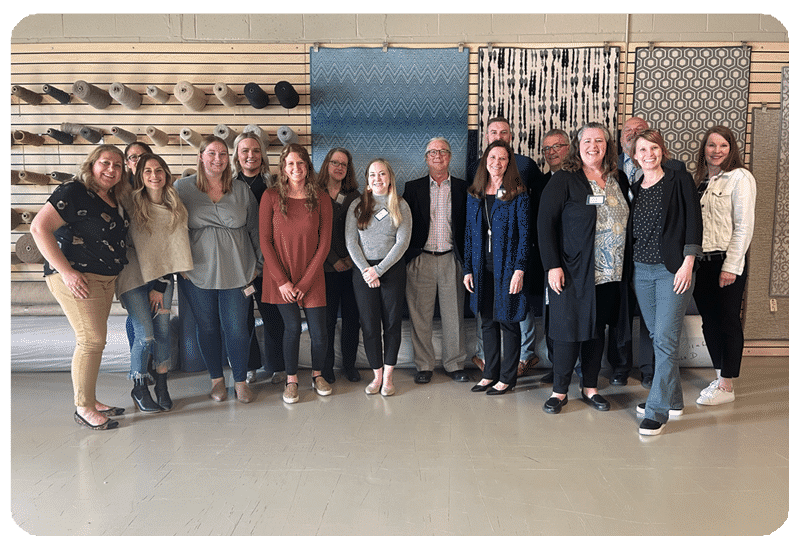 Don Karlin led a presentation that was all about carpet. His talk went in depth about the different carpet and rug fiber systems and the various advantages and disadvantages of each.  He talked about the most popular carpet fibers Polypropylene, Polyester, Viscose, Nylon and Wool.
Connecting with design peers
The design events also offered the opportunity for the interior designers to connect with design peers in their community. FLOOR360 provided complimentary wine selections from Toot & Kate's Wine Bar with cheese boards from Fromagination in Madison, and appetizers and drinks were served in Milwaukee. 
FLOOR360 is providing free Design for a Difference interior makeovers to non-profit facilities in Madison and Milwaukee in 2022. The projects are planned and executed by a team of interior designers so Angela Skalitzky Design for a Difference Madison Director, and Kelly Kuehn Design for a Difference Milwaukee Director each spoke in hopes of recruiting new designers for their teams in 2022.