Let our experienced team bring your tile visions to life.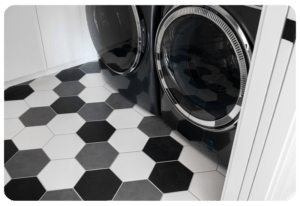 If you're looking for a stylish upgrade to your home or business, there's really no better way than with tile. This incredibly versatile option can be used on floors, walls, and just about anywhere you want to add a pop of color or texture.
Because tile can vary so much in material, size, and style, it's a smart idea to work with a professional to ensure your project is designed and installed to perfection. The team at FLOOR360's tile shop in Madison, WI, can do just that!
From helping you choose where your tile will be installed, selecting the best options for your space, and managing a team of installers that will help your project go off without a hitch, we're here to help you every step of the way.
Here are just a few of the tile projects our team can help you bring to life:
Backsplashes
Shower/bath areas
Floors
Fireplaces
Custom creations
Read on to learn more about how our tile shop in Madison, WI, can transform your tile vision into a reality!
Backsplashes
One of the first places people think of adding tile to their home or business is a countertop backsplash, and it's no surprise why! Backsplashes are the perfect canvas to add color, texture, and visual interest to your kitchen, bathroom, bar, laundry room, breakroom, or other space. Tile backsplashes also add some practical benefits, including making the area easy to clean, protecting it from moisture damage, and being relatively easy to replace if you re-do the space in the future.

Shower/bath areas
Another fantastic tile project to undertake is adding tile to a bathtub or shower surround, bathroom floor, or walls. Tile's water resistance and ease of cleaning really shine here, since the space around your tub and shower comes in contact with a lot of moisture, steam, and grime! Whether you're opting for a traditional style or want to make a statement with your bathroom tile design, the team at FLOOR360 can make it happen.
Floors
Tile flooring is an excellent option for just about any room in your house or business, thanks to its durability and nearly endless design options. From ceramic tile to natural stone, there's a tile option out there to fit every flooring project, and the team at our tile shop in Madison, WI, is ready to help you find it!

Fireplaces
The area around fireplaces is another classic spot you can use tile on to infuse your space with some style. Thanks to its durability and how easy it is to maintain, tile can easily stand up to soot and high temperatures that come with fireplaces.
For some inspiration, check out this new construction project from our design team that included natural stone herringbone tile on both the fireplace and kitchen backsplash.
Custom creations
Have a totally unique tile project in mind for your home or business? Our design team has tackled custom projects before and is ready to bring your design vision to life. 
Our tile shop in Madison, WI, has thousands of tile samples you can choose from to fit your preferences and style — learn more about the types of tile you'll find at FLOOR360 in this blog post, and get some more unique tile ideas here.
If you're ready to take on your next tile project, contact our team today or visit our showroom!