FLOOR360 provides everything you need for an exceptional flooring store experience.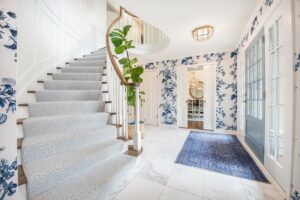 At FLOOR360, we never do a job halfway. Instead, we go above and beyond to ensure that Madison, WI, homeowners and business owners receive the best, most thorough flooring design experience and superior customer service.
That's why we're proud to have an extensive list of flooring services available for our customers. From offering competitive pricing and top-tier design to expert installation and other unique offerings, we go above and beyond to ensure your new floors turn out exactly how you envisioned them.
Read on to learn more about our services and why you should choose FLOOR360 over other flooring stores in Madison, WI. 
Commercial services
At FLOOR360, we're here to help make the floors in your office or business stand out with our commercial flooring services. Our team has extensive experience working on flooring projects in many different types of commercial buildings, including:
Hotels
Seniors' housing
Student dorms 
Low-income homes and housing
Restaurants
Health clubs
Medical buildings 
Whether you're looking for a luxury tile design for a stunning resort remodel or you need a hardy floor option for your new restaurant, the FLOOR360 team has what you're looking for.
Residential services
If you live in Madison, WI, and want to upgrade your home's floors or select flooring for a new build, FLOOR360 is here with the most on-trend designs and skilled installation for your residential property. 
We stand apart from other flooring stores in Madison, WI, with our wide selection of residential flooring services, including:
An expansive, design-driven selection of tile, hardwood, carpet, vinyl, and more
Experienced interior designers to guide you through the selection process
Industry-leading installation crews and project managers
Routine status updates on your project
Value pricing for builders
Repair services for the duration of your warranty
With more than 25 honors, awards, and accolades to our name, we're confident the FLOOR360 team can deliver the flooring results you have in mind for your home.
Design
You have a design vision in mind for your new floors — let our design team help you bring it to life! 
The expert design team in our flooring store in Madison, WI, will guide you through the design consultation process and help you pick the best flooring option to make your design dream a reality. Our team works hard to make this process fun, hassle-free and without any decision stress for our clients.
Installation
At FLOOR360, we know tile and floor installation. With almost 25 years of experience and over 12,000 happy customers, we're confident that you'll be thrilled with the final result of your flooring project. Whether it's new construction, a historical remodel, or a flooring refresh for your business, our team has tackled challenging projects before and we're ready to put our skills to work on yours.
Repair
We work hard to ensure you're satisfied with your floors, even after our initial job is done. If your floors need repairs during the lifespan of your warranty, our dedicated customer service team will schedule a skilled field support technician to come to your property and provide installation support that rectifies the situation to your satisfaction. 
Services you won't find at other flooring stores in Madison, WI
We go the extra mile for our customers with exclusive services like our in-stock flooring program, where you receive first access to top-tier designer brands like Shaw and Stanton at discount prices. We also offer a Trade Program that allows customers access to exclusive benefits like trade discounts, a referral bonus, and private trade events.
As one of the top flooring stores in Madison, WI, FLOOR360 is excited to work with you to select and install the quality, design-driven flooring that will make your residential or commercial property come to life. 
Reach out to our talented design team today to learn more about our services and get started on your next flooring project!