Get started on your flooring project with these tips from the FLOOR360 team.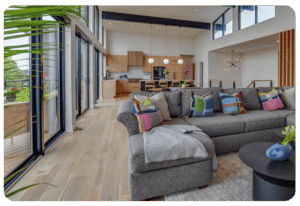 Buying new flooring is an investment that requires a lot of consideration and planning. Our expert team at FLOOR360 has decades of industry experience to help you select the right flooring for your home or commercial project.
We've put that experience to work and created this guide to help you find the best hardwood flooring in Madison, WI. Follow these steps to select the ideal flooring for your next project:
Research your options
Find your style
Work with a designer
Schedule a showroom appointment
Have your floor installed
Learn to care for your new floor
Read on to learn more about our recommendations for finding your best fit for hardwood flooring.
Research your options
Your new hardwood floor will be with you for a long time, so you'll want it to reflect your personality and style while standing up to everything your home or business throws its way.
Start by researching your options and familiarizing yourself with the difference between solid and engineered wood. Both types can give your home an elegant look while delivering unique benefits depending on the room you plan to install it in.

Find your style
Once you've decided on the type of flooring that best fits your project, it's time to start narrowing in on the style that will bring your design vision to life. FLOOR360 offers a vast selection of high-end, unique options that other suppliers of hardwood flooring in Madison, WI, can't' beat.
If you need some design inspiration, we invite you to check out examples of some of our past hardwood flooring projects yourself!
Work with a designer
It's one thing to have a clear vision and another to figure out a way to execute it. Professional designers can assist with executing a pre-planned vision just as efficiently as they can help you create a brand new one!
Our FLOOR360 design team is here to make the process of choosing hardwood flooring for your home or commercial space fun and exciting, without any uncertainty or decision stress.

Schedule a showroom appointment
By visiting a showroom, you can better understand how the floors will look in real life vs. an online gallery. This is also your chance to work in person with your designer to select the hardwood flooring that will best fit your home and your vision.
Have your floor installed
Next comes the step you've been waiting for — installation. It's smart to work with a team that's knowledgeable and capable of treating your new investment with respect.
AT FLOOR360, installing hardwood is what we do best. With nearly 25 years of experience helping Madison homeowners install the hardwood flooring of their dreams, no other installer has the expertise and know-how our team is known for. In fact, that experience has helped FLOOR360 become the flooring vendor that installs more flooring in new homes than any other vendor in the state of Wisconsin!

Learn to care for your new floor
It'd be incredible if your hardwood floor could always look as nice and new as when the FLOOR360 team first installed it for you. Life happens, of course, but that doesn't mean you can't learn how to best care for your floor as time goes on. We're happy to provide a hardwood care sheet that will help you maintain and care for your floors, so they retain their natural beauty for years to come.
If anything happens to your floor that requires repairs during its warranty, the FLOOR360 team is here to help. We'll schedule an expert field support technician to stop by and fix the issue to your satisfaction.
If you're ready to take the next step and buy hardwood flooring in Madison, WI, make FLOOR360 your first stop. Contact the FLOOR360 design team today to learn more about our hardwood flooring services and to get started on your next home or commercial project!