Learn why FLOOR360 is the top choice among flooring stores in Madison, WI.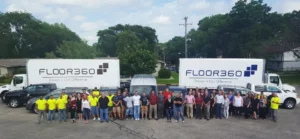 Beautiful hardwood, plush carpeting, and upscale, modern vinyl flooring elevate your interior design, add comfort to your home, and imbue your living spaces with a feeling of luxury. Choosing the right flooring supplier can ensure that you will find the perfect options for your upgrade project and enjoy the results for years to come.
The service and selection you'll find at FLOOR360 are unlike any other flooring provider or big-box hardware store out there. Our team is dedicated to providing an exceptional experience and building strong and lasting relationships with every customer.
Read on to learn more about what sets us apart from other flooring stores in Madison, WI, and how we can turn your flooring vision into reality.
Innovative design studio
Our customers range from homeowners looking to update the flooring in their homes to business owners designing a new workspace for their company, but they all have one thing in common: they want to craft an image of style and sophistication with their flooring choices and they know FLOOR360 has the tools and experience to do so.
Every FLOOR360 project starts with close collaboration throughout the design process.
Our talented team has the expertise to help you choose the perfect flooring to complement your overall design or serve as the focal point of your space. We also offer expert installation and maintenance services to ensure your flooring selections look as great in your home or business as in our showroom.
Purchasing power
We want to help every customer realize their vision for interiors that not only meet functional needs, but complement a stunning interior design. We also understand that you're working with a budget, and we strive to provide options for every customer.
With more than two decades devoted to building strong partnerships and growing our business, we've cultivated a network of suppliers and negotiated deals that allow us to find the best prices on the most popular products, all for the benefit of our residential and commercial clients.
Long-term partnerships
Creating lasting partnerships is a core value at FLOOR360, which is why we go out of our way to deliver excellence at every turn. Not only do we operate with honesty and integrity in our dealings with vendors and suppliers, but we go above and beyond to ensure customer satisfaction.
If you're looking for flooring stores in Madison, WI, that go beyond the expected, FLOOR360 offers high-end designs paired with truly exceptional customer service and support.
Outstanding flooring selection
Are you interested in sleek, sophisticated tile for the lobby of your corporate office and robust carpeting for the work environment that will hold up to a lot of daily traffic? Maybe you want hardwood to elevate the ambiance of your home or luxury vinyl tile that holds up to the rigors of a busy household.
At FLOOR360, you'll find an incredible array of options to meet your practical needs and style sensibilities, along with expert guidance in choosing the perfect materials for your project. With our in-stock flooring program, you can even save up to 30% over retail pricing on designer flooring products.
Quality installation process
What could be worse than purchasing beautiful flooring only to have it improperly or carelessly installed? FLOOR360 offers end-to-end services with exceptional design, installation, and maintenance.
Are you looking for flooring stores in Madison, WI, that offer upscale materials, custom design, quality installation, and a customer-driven experience? Your search is over. Contact the FLOOR360 design team today to get started on your next flooring project!