It's easy to upgrade your hardwood flooring in Madison, WI with FLOOR360.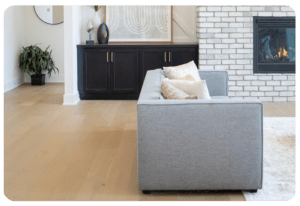 Hardwood flooring is a timeless, attractive flooring option that can work in just about any space in your home or business. It lasts many years, looks classic and elegant, and is easy to maintain with the right know-how.
But even when hardwood flooring is maintained well, it will eventually need to be replaced. Luckily FLOOR360, the top provider of hardwood flooring in Madison, Wisconsin, has the expertise to help you decide when it's time to replace your floors, select your perfect color and style, and install it with care.
Here are a few ways to know it's time to contact FLOOR360 for a hardwood flooring upgrade:
Large scratches and marks
Cracking or moving boards
Water damage
Nails are sticking up
Let's dive into each of these reasons you may want to upgrade the hardwood flooring in your home or business!
Large scratches and marks
Hardwood flooring can be prone to minor scratches and imperfections, so there's no real cause for concern if you notice small blemishes over the years. However, if you see a deep gash or chip or if a large area of the floor has accumulated too much wear over time and refinishing isn't an option, consider contacting your hardwood flooring pros at FLOOR360. We can help you determine your best options for new hardwood flooring, choose the styles that fit your space best, and install them for you to enjoy for years to come.
Water damage
Checking for chips or deep gouges in your hardwood flooring is vital because these imperfections can leave the floor vulnerable to water damage. Depending on the type of hardwood you have, it may be more susceptible to water issues like stains and warping. A good seal on your floors will help avoid minor water damage, but if your space is prone to excessive moisture or you experienced a flood or plumbing issues, it's likely time to replace your floors.
Cracking or moving boards
Over time any floor might start to creak a bit when someone walks over it, but there is a point when replacement is the best option. It can mean that the floors are structurally weakening, which can cause more issues. Hardwood flooring expands and contracts slightly with temperature, but it should not bend or shift when you walk over them. This is another sign to consider an upgrade and contact FLOOR360.
Nails are sticking up
When your hardwood floors are first installed, the nails used to keep them in place should not be noticeable. Through wear and tear, nails may start to stick up out of the floor and cause serious issues. They are unappealing, but they are also a safety hazard for people and pets. If a few start to pop up, especially common in high-traffic areas, it's easy to fix those one by one. But if nails sticking out has become a more severe issue, it's time to give your floors an upgrade.
It can be a challenge to know when to upgrade your floors, but knowing where to go for hardwood flooring in Madison, Wisconsin, shouldn't be! Our experts at FLOOR360 can help you from the beginning of your project all the way through to the end. Contact FLOOR360 today to schedule a consultation with one of our designers or to visit our showroom!
Contact Us