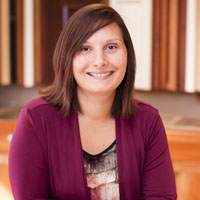 Katie Merical is an award-winning interior designer and project manager at Cabinet Masters. Her credentials include the Associate Kitchen and Bath Designer certification from the National Kitchen and Bath Association, and she has over 11 years of experience in the remodeling industry. Katie also has the distinction of being the first NARI Certified Remodeling Project Manager in Madison. She has her Residential Planning Diploma through the Art Institute of Pittsburg, and is working toward her Bachelor degree in interior design. Katie actively participates in community projects such as Hammer with a Heart through Project Home.
Back to Design for a Difference >
To know more, check out our design team.