Here's what to expect when you visit FLOOR360.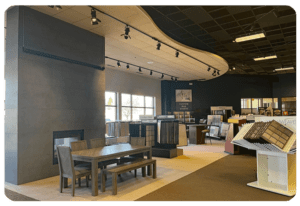 When you visit FLOOR360's flooring store in Madison, WI, you aren't just stopping by a flooring retailer. You're stepping into a full-fledged design studio, complete with the experienced team who will help bring your design visions to life
Whether you're tackling a remodel, a new home build, or a flooring update for your business, our team at FLOOR360 is ready to welcome you to our Madison location and get started on your project.
Here are just a few of the things you'll find when you visit our flooring store in Madison, WI:
Experienced team
Design showroom
Thousands of flooring options
Read on to learn more about the FLOOR360 experience!

Experienced team
The first people you meet when you walk into our flooring store in Madison, WI, are our experienced design staff. Our designers will walk you through every step of the design process, from the initial consultation to choosing your flooring material and all the way until your flooring is installed. Our design capabilities are just part of what sets FLOOR360 apart from other flooring stores in Madison, WI, and we can't wait to put them to work for you!
Design showroom
When you book an appointment at our Madison design showroom, you'll get to see all of your flooring options up close and personal before making your selection. A member of our team will meet with you to discuss your project and gather all of the details to help bring your vision to life. Here are some more great reasons to visit our flooring store in Madison, WI!
Can't meet in our showroom in person? Not a problem! You can also schedule a virtual appointment via video chat so you can meet with our team and discuss your project from the comfort of your own home.

Thousands of flooring options
The FLOOR360 team delivers the latest in stylish flooring options that you'd find at vendors in New York or Los Angeles, priced to fit our Midwestern location. From exclusive luxury carpet, European hardwoods, and our unparalleled stone and tile collections, to innovative options like vinyl planks, cork, and bamboo, our store carries all of the flooring options you need to give your home or business a stylish upgrade.
Ready to visit FLOOR360 and get started on your next design project? Visit our flooring store in Madison, WI, in the Madison Design Mart at 5117 Verona Road, or contact our team today to schedule a personal design showroom appointment. 
For more flooring inspiration for your home or business, check out our gallery of finished projects and keep reading the FLOOR360 blog!